Julie A. Myers, MSOD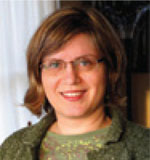 Julie is a learning specialist and organization development consultant with over 18 years of experience helping diverse individuals and groups discover their own solutions for learning and development.
Flexible, patient, and adept at forging relationships with individuals and among groups, her success is built on a foundation of listening for understanding, synthesizing various points of view, and working with people to create new opportunities.
Julie is a trained tutor certified by the Lab School of Washington, DC, and has worked with hundreds of clients, including students at George Washington University, Montgomery College, Sidwell Friends School, St. Patrick's Episcopal Day School, Wilson High School and Green Acres School. She was also a facilitator at Mayor Fenty's series of Town Hall Meetings on the state of the District of Columbia Public Schools.
Julie holds a Master of Science in Organization Development from the American University/NTL Institute and is a certified Rockport Institute Career Coach.